More than just a caravan business.....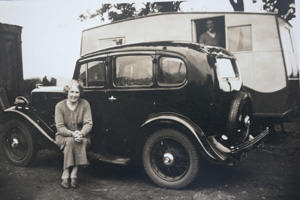 The Duncan family were enjoying the freedom of caravanning for a long time before the business was started. This picture shows Dannys grandmother Georgina next to her Eccles Caravan from around the late 1950's or early 60's. Five generations later the family still enjoy regular caravan holidays.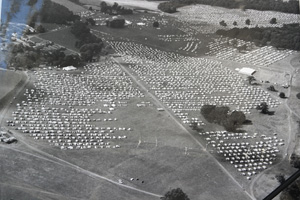 May and Jack Duncan (Dannys mum and dad) were very enthusiastic caravanners and Caravan Club members. They attended and marshalled rallies all over the country. This pictures was taken 14/5/1969 and has 'Woburn International' written on the back, this clearly illustrates the popularity of caravanning at the time. Danny and his brother Jim were brought up with caravan holidays and in time Shona, Alistair and Calum went caravanning with 'Gran Duncan'.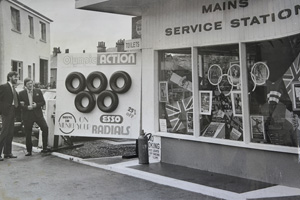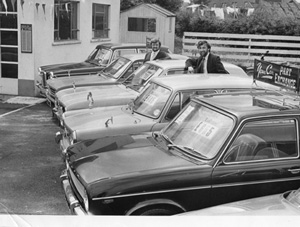 Danny Duncan (seen on the left in the top picture) served his time as a motor mechanic and Joyce was a dental nurse. After the compulsory purchase of their flat and with Shona 22 months old and Alistair only 4 months Joyce and Danny decide to put everything they had into opening their own business. They rented an Esso petrol station and car repair workshop in Newmains. With every penny invested in the business and nowhere to live Joyce and Danny lived in a caravan round the back of the workshop (what else did you expect!). The first few years profits were re-invested and the business moved into used car sales. Danny is pictured on the used car lot. With no child care availible Shona and Alistair used to play round the back of the workshop.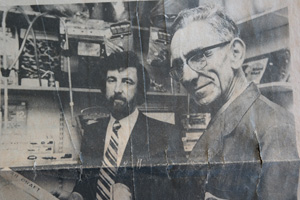 in 1976 Danny and Joyce decide to expand the business and buy the current premesis in Waterloo. Already operating as a petrol station this was a larger site with land which could be used to sell caravans. Selling Sprite, Europa, Eccles and Fairholme models the business got off to a successful start as they sold every caravan they had in stock on the opening weekend. The static in the middle of the picture was the sales office. The middle and lower pictures are cuttings from the Wishaw Press at the time. The lower picture shows Danny Duncan with his father Jack who was always on hand to provide support and advice.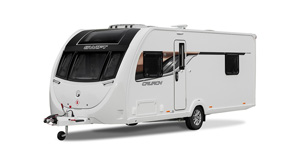 A lot has changed in 50 years, however Joyce and Danny are still active partners in the business and the family still enjoy the freedom of caravanning. Selling products from Swift, Bailey, Eccles and Sprite.
Thank you
The last fifty years would not have been possible without the support and hard work of the fantastic team we work with. To our extended family we would like to thanks everyone past and present who has contributed to the success of the past Fifty years. We would also lke to sincerely thank all our customers who come back year after year.
Danny, Joyce, Calumn and Alistair