Caravan Awnings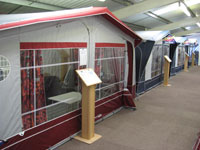 The addition of an awning will double the living space of your caravan and could be considered essential for families, dog owners or people who just need a bit more space. Before you buy we would like you to consider some of the following points to ensure you have the best possible awning for your individual needs. If your purchase decission is simply based on price you might find the product is not actually fit for your purpouse. We have a good selection of awnings and porches on display in our showroom and we would be delighted to take time to discuss your requirements. Please visit our showroom to see the product you are about to invest in or visit
www.duncancamping.co.uk
to see more on-line..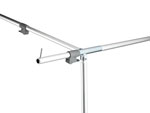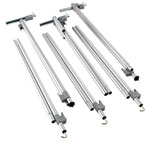 Awning Frame Options
Steel frames tend to be inexpensive and very strong but are likely to be heavy, especially for larger caravans. This option is ideal if you site your caravan on a seaonal pitch or require greater structural stability for off- peak season caravanning. Most steel frames are likely to be zinc coated or galvanised to minimise rust spots.
Aluminium frames are very lightweight (about half the weight of a steel frame) making them ideal for touring.
Fibre Frames are light weight, corrosion resistant and in most cases very strong. Ideal for both permanent and touring. Expect to pay a slight premium.
Fabric and Zips. It is almost impossible to compare the quality of finish produced by different manufacturers on-line. We would encourage all buyers to visit our showroom before making their purchase decission.
A light coloured roof will make your awning feel light, spacious and reflect the sun in warm weather but will show marks especially from birds droppings etc. Most manufacturers use a coated fabric for the roof which will clean easily. Some manufacturers use a paterned fabric which is less likely to show marks.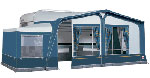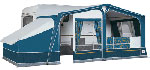 Annexes can provide additional space to your awning which can be ideal for use as a bedroom, or for general storage. Think ahead when choosing your awning as an annex can only be fitted to certain models of awning.
Annex Innertents are provided by some manufacturers as standard, with others the innertents is an optional extra. Consider this when comparing price.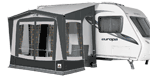 Porch Awnings
are ideal for short breaks or touring around. More compact than a full awning so less poles to erect, fabric to wrestle with and pegs to hammer in. The pack size will be smaller and lighter than a full awning. Beware though because not all manufacturers porches are easy to erect. A porch awning will not be as weather tight as a full awning due to the way it seals against the side of your caravan. Be carefull when choosing the size of porch to fit your caravan so as not to restrict the use of your caravans external access doors for toilet (or wet locker), windows, exterior 230v socket or gas BBQ point. Please visit our showroom to find out more or
click here
to see more on-line.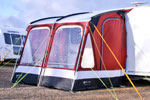 Lightweight Awnings.
As the name would suggest the fabric and poles are much lighter than conventional awnings being manufactured more like a modern touring tent than an awning. The pack size is likely to be much smaller than a full awning and in most cases are very very very easy to erect. Take time to peg correctly and use the guy lines provided as the frame is unlikely to be as rigid as a full awning. These products are relatlvely inexpensive to buy but beware of cheap inferior products sold by some on-line retailers. Please visit our showroom to view a range of value for money products or
click her
e
to view on-line. We do not sell manufacturers rejects, seconds or warranty recalled products in our showroom or on-line shop.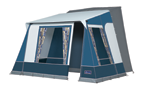 Motor Annexes
provide essential additional space for motorhome owners. We supply a wide variety of products to suit smaller motor homes and vans to larger coachbuilt models. The free standing pod is available in a variety of sizes, styles, colours, frame and fabric options. With this much choice why simply shop on price. Please visit our showroom to discuss the options available or
click here
to view on-line.
Sun Canopies
are ideal for caravanners lucky enough to visit sunny places. Very simple to erect, lightweight and compact pack sizes. Some models are available with zip in side panels for added privacy. To see our range of canopies please visit our showroom or
click here
to browse on-line.